Section 44 Online Training Course
What is Section 44 Training?
This course has been developed for all supervisors and other personnel who are appointed under Section 44. It gives you an understanding of your legal obligations, responsibilities and duties as a Section 44 appointee.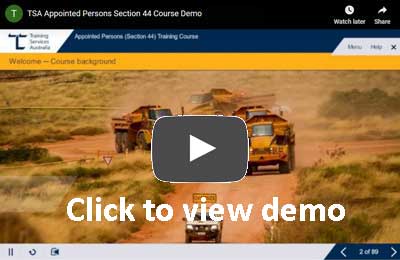 Why Section 44?
Mine managers are responsible for the safety of all personnel at a mine site however they are unable to monitor all parts of the operation at the same time. Fortunately, under Section 44 of the Mines Safety and Inspection Act (WA) a mine manager can delegate duties to others to assist them in meeting their obligations.
Who is an Appointed Person?
The Mine Manager must appoint as many competent persons as are necessary to assist them to carry out their duties. The number of appointments made will depend on the size, nature and technical complexity of the mine.
In addition to statutory roles, it may include Superintendents, Supervisors, Co-ordinators and Trainers and Assessors.
What is the cost?
The cost of the Section 44 Training Course is $200 per person (inc GST)
How long does the course go for?
The course duration is 2 hrs – 2.5 hrs
What topics and activities are included?
Overview of Health and Safety Legislative Framework
Appointments and responsibilities under the MSI Act
Duty of care
Risk management
Workplace inspections
Incident and accident reporting
Training and supervision
Emergency preparation
Plant and substances
Mines inspectors
What is the benefit of doing the course online?
The benefits of doing the Section 44 Training course online with TSA include:
Flexibility: Access to content 24/7 days a week
Self Paced: Ability to for your employee to work own pace and fit the training around their other commitments
Self Help: Employees are able to immediately review content should they answer an assessment question incorrectly
Increased Capacity and Consistency: Online learning allows employers to achieve a great degree of coverage for their target audience, and it ensures that the message is communicated in a consistent fashion. This results in all learners receiving exactly the same training.
Decreased Cost: Reduces time away from the workplace, eliminates the need for travel, and removes the need for classroom-based training
Reduction of the Carbon Footprint:  Use of online learning for training delivery coupled with online testing and quizzing, eliminates the the need for printing out paper-based training materials and assessments.
What are the assessment requirements?
The assessment for this course consists of Assessment questions and activities to be completed on-course at the end of each section. There are no post course assessment requirements.
Is there any more information?
Please also review our learner agreement prior to enrolment which contains important information about your rights and obligations as well as support services. Additionally you can email us here or call us on 08 9422 6444.