Beneath the Hard Hat – Mental Health Training for the Resources Sector
What is Beneath the Hard Hat?
This course has been developed for all workers in the resources sector in Australia. It aims to improve mental health outcomes by providing learners with the tools to support their own mental health and wellbeing, as well as that of their colleagues. The course includes authentic, relatable stories from people who have lived with mental illness while working in the Australian resources sector.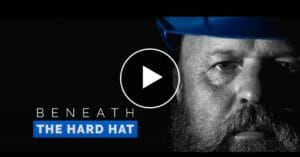 What is the cost?
The cost of the Beneath the Hard Hat course is $165 per person (inc GST)
Volume pricing can be negotiated for clients with large numbers of personnel undertaking this training.
How long does the course go for?
The course duration is approximately 1 hr 45 mins.  The training is self paced and can be started and stopped as required.
What content is included?
Understanding mental health and mental illness
Risk factors affecting mental health in the resources sector
Recognising the signs and symptoms of mental illnesses
How to seek help for yourself and support a colleague in seeking help
Reducing stigma relating to mental health in the workplace
Having a conversation with a colleague who may need support
Building protective factors to reduce the likelihood of developing mental illness
What are the benefits of doing the course online?
Flexibility: Access to content 24 hours a day 7 days a week.
Self Paced: Employees can work own pace and fit the training around their other commitments.
Self Help: Employees are able to immediately review the content should they answer an assessment question incorrectly.
Increased Capacity and Consistency: Online learning allows employers to achieve a great degree of coverage for their workforce, and ensures that the message is communicated in a consistent fashion, resulting in all learners receiving exactly the same training.
Decreased Cost: Reduces time away from the workplace, eliminates the need for travel, and removes the need for classroom-based training.
Reduced Carbon Footprint:  Use of e-learning for training delivery, coupled with online testing and quizzing, eliminates the the need for printing out paper-based training materials and assessments, or travelling to attend face-to-face training.
What are the assessment requirements?
Multiple choice and multiple response questions are used to assess participants' understanding of each topic. To complete the course, all questions must be answered correctly.
Is there any more information?
Please also review our learner agreement prior to enrolment which contains important information about your rights and obligations as well as support services. Additionally you can email us here or call us on 08 9422 6444.